The twisting tale of Jeeva Samadhi
Published : Sep 13, 2019 5:09 PM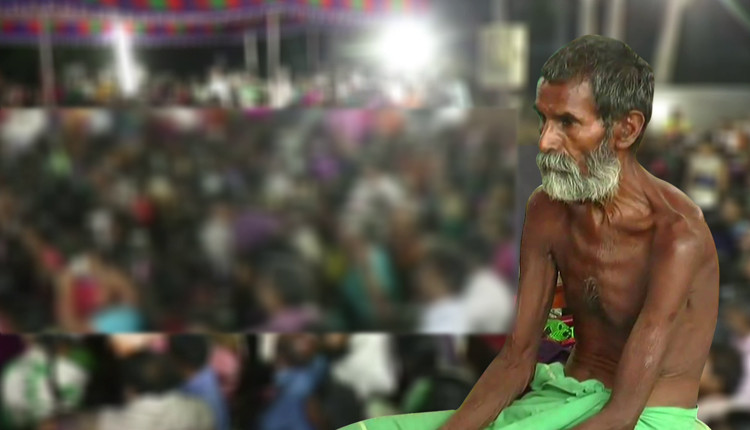 The twisting tale of Jeeva Samadhi
Sep 13, 2019 5:09 PM
Recently, an old man from Sivagangai announced that he would attain Jeeva Samadhi in which thousands of people have gathered and police personnel have deployed to witness the event. However, they were gathered only to find nothing happened as such around them.
In a Tamil movie 'Natpukkaga', there is a comedy scene where comedian Senthil tells everyone that he is going to lift the mountain. When the D-day comes, Senthil tells, "Now you all lift the mountain and Keep it in my shoulders. So that I will carry the mountain". Villagers leave the place in disappointment and angry.
This Sivagangai incident reminds us of this hilarious scene.  Irulappan, a native of Pasangarai village, is married and father of son and daughter. He calls himself as great devotee of Lord Siva and visited many Siva temples across the state.
According to his villagers, he often leaves his home without intimating his family and would come back after some days. He used to see astrology for those who come to him. Few days back, he kept telling others that he is going to attain Jeeva Samadhi.  One day, he finally announced that he would attain Jeeva Samadhi between 12 am and 5 am on Friday.
Many of his villagers didn't believe or take the things seriously. However, he prepared himself for Jeeva Samadhi by taking only water for the past 10 days. This news spread in social media and many from nearby villages and town arrived to the place on said day to get his blessings. Preparation was such that the necessary place for Jeeva Samadhi was made by digging 10*10 Feet.
On Thursday night, thousands have gathered to witness the event and hundreds of policemen deployed for security. Realizing the situation, district collector Jayakanthan also reached the spot.
Sitting amidst gathered public, Irulappan kept giving his blessings to his devotees. Doctors kept examining his health condition. Infact, Irulappan himself was surprised to see the attention he got from public.
However, things didn't happen as expected. The time 5 am, which he scheduled for his Jeeva Samadhi, passed. There is no change in his health condition. Meanwhile, at 5:45am, he announced that he postponed his decision and went to sleep!
It was very appalling sight to see the public who sacrificed their sleep and came all the way to witness the event. Even their family had to face the consequences. His son disappeared fearing questions from public and his wife strongly believes he won't attain Jeeva Samadhi.
Jeeva Samadhi is meant for the saints who take up spirituality in very serious way and practice it by completely ignoring worldly pleasures. However, one can find thousands of people like Irulappan in and around temples like Kasi, Thiruvannamalai.
Many try to camouflage as saints just to escape from their responsibilities. It is only upto us and our knowledge on whom to believe or whom not to!
​